Заповядайте в "КОНАК"!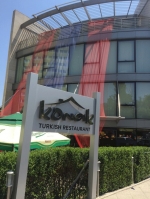 For several days in Sofia there is a paradise for lovers of Turkish cuisine. Restaurant "Konak" open and until now it is the only place which offers an open kitchen, and all the delicious dishes from the menu are prepared in front of the customers. The both chefs ensure that - one is from Iran and the other is from the Turkish part of Cyprus.
Secluded booths with handmade lamps conducive to relaxation and pleasant some chat, and the large garden with a fountain offeres refreshment in summer.
The menu, however, is the highlight of the evening - the grill and the unique Turkish kebab are enough to attract every lover of delicious dishes. Moreover, they are offered with four types of salads and appetizers at least 15 species.
"The convenience of the short menu and open kitchen is that everything happens very quickly and guests are not waiting," says the manager of the restaurant Atanas Svetlev.
As for the assortment of temptations - they start from Turkish special drinks that are not offered so far in Bulgaria, as well as beer, ouzo, whiskey, vodka or rum and cognac.
Restaurant "Konak" has another advantage - it is located just meters from the Park Hotel "Moscow", on "Akad. Metodi Popov" 26 in "East" and could easily become a favorite of gourmets.
2015-08-17
source: http://inews.bg/